Turkey Sausage Patties
1 lb. 93% lean ground turkey
1 small onion, diced small
1 garlic clove, minced
1 Tbsp. red wine vinegar
1 Tbsp. chopped chives
1 teas. olive oil
¾ teas. paprika
pinch of sugar
pinch of nutmeg
salt and pepper to taste
Place a medium non-stick skillet over medium low heat.  Add the oil to the skillet and when the oil is hot add the onions and garlic.  Cook the onions and garlic about 3-4 minutes until the onions are translucent, stir frequently.  When the onions have softened remove the onion and garlic from the skillet and set aside in a bowl to cool slightly.  Add the ground turkey, red wine vinegar, chives, paprika, sugar, nutmeg, and salt and pepper to the bowl containing the onions and garlic and mix well.  Shape the ground turkey mixture into 6 patties. (If you are not planning to cook the turkey sausage patties right away, they may be refrigerated or frozen to cook later). Place a non-stick skillet over medium-low heat and spray with cooking spray.  When the skillet is hot add the turkey sausage patties to the skillet and cook for about 3 minutes on each side. When the turkey sausages are browned, reduce the heat to low, cover the skillet and continue to cook until the turkey sausage patties reach an internal temperature of 165 degrees F.
Recipe makes 6 servings  Estimated WW Smart points 3 per serving
Recipe is Keto Friendly
Turkey and White Bean Chili
3 lbs. 93% lean ground turkey
4 15.5 oz. cans cannellini or navy beans, rinsed and drained
2 cans low-sodium chicken broth
1 4.5 oz. can chopped green chilies, drained
2 small onions, chopped
5 cloves garlic, chopped
½ cup reduced-fat sour cream
1 bay leaf
½ Tbsp. cumin
1 Tbsp. oregano
 2 teas. chili powder (or to taste)
 1 teas. red pepper flakes (or to taste)
salt and pepper to taste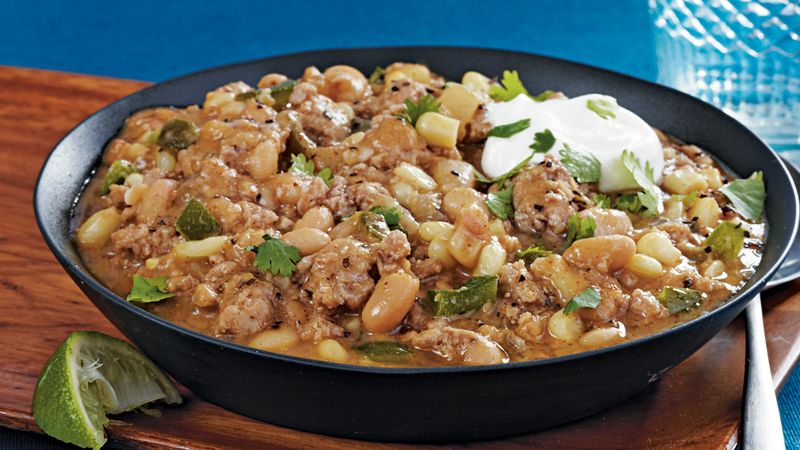 Heat a large heavy pot or Dutch oven over medium heat.  Spray the pot with cooking spray. When the pot is hot add the onions and garlic and sauté until soft, 3-4 minutes.  Add the ground turkey, using a wooden spoon to break up the meat. Cook the ground turkey until it is cooked through and the turkey turns white, about 5 minutes.  Add the salt, pepper, green chilies, cumin, oregano, chili powder and red pepper flakes to the pot and cook for about 2 minutes. Place 1 can of the beans in a blender with 1 cup of the chicken broth and blend until smooth.  Pour this mixture into the pot with the ground beef and add the remaining beans and broth to the pot together with the bay leaf. Cover the pot, reduce heat to simmer and simmer the chili for 30-35 minutes, stirring occasionally, until the chili has thickened.  Stir in the sour cream and cook for 4-5 minutes. Adjust seasonings if necessary. Remove bay leaf and serve.
Recipe makes 12 servings  Estimated WW Smart points 4 per serving